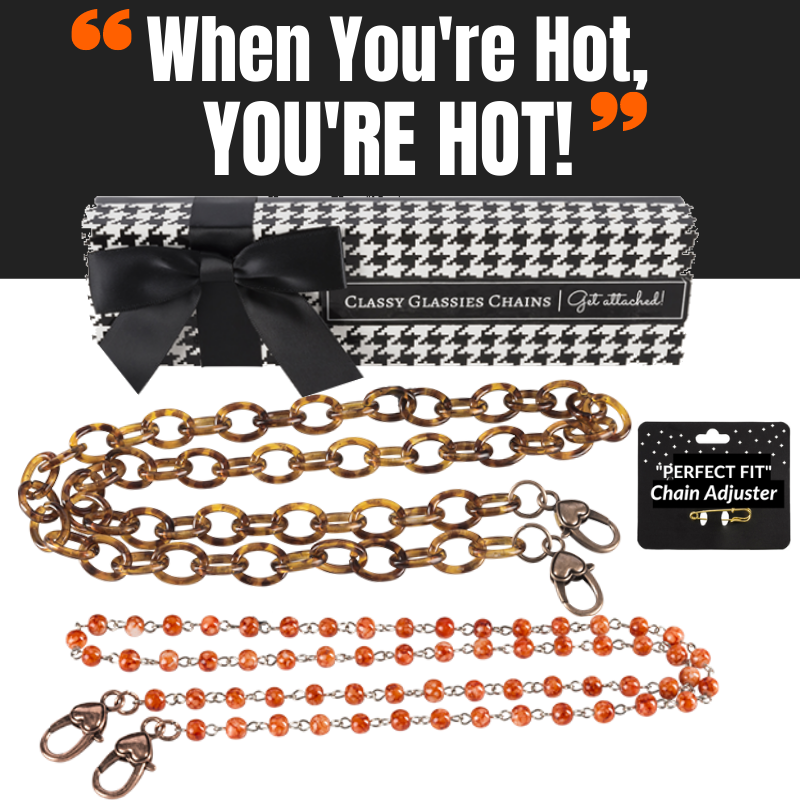 HelloClassy
"When You're Hot, YOU'RE HOT!"
Smoldering Hot!
  Yes, Timeless Style is ALWAYS Hot!  Accessorize any look with this hot CLASSY Chain Set that exudes instant warmth, while keeping eyewear and face masks fashionably secure.  

  This "When You're Hot, YOU'RE HOT!" CLASSY Chain Set Includes: 
"Trendy Tortoise" Retro-Vintage Tortoise Shell Linked CLASSY Chain. 

Marvelously mottled neutrals are always a wonderful way to polish off any look.  This sleek and stylish acrylic CLASSY Chain is lightweight, yet sturdy.  Soft amber tones embody stylish

 sophistication.    

"Orange-You-Glad?" Orange Beaded CLASSY Chain.  This ravishing chain is hand-painted and one-of-a-kind; featuring delicate flecks of the prettiest shades of orange and bronze that are guaranteed to make you look as fashion-savvy as you feel.   So CLASSY!  
Two (2) CLASSY "Perfect Size" Chain Adjusters.  All CLASSY Chains are 28-inches long.  Easily adjust the length of CLASSY Chains with the CLASSY "Perfect Size" Chain Adjuster, included with your purchase.  
SAFETY | ON-TREND STYLE | INCREASED PRODUCTIVITY.  Each CLASSY Chain has two stylish CLASSY Lobster Clasps that securely attach to Face Masks and eyewear; reducing cross-contamination risks by providing 100% LOSS PROTECTION and EASY ACCESS to Face Masks and eyewear.  GET MORE DONE, too....with no time lost searching for Face Masks and eyewear.   
  ______________________________________________ 
Color Your Masks Beautiful with CLASSY Chains! 

 Keeps Masks Clean and Safe from Harmful Surfaces When Not in Use.  No more losing masks in your purse!  Always know where your mask is when needed!

 Secure and Reliable Access.  CLASSY Chains keep masks secure for immediate use. 

 Easily Converts to a Stunning Necklace.   Wear CLASSY Chains as a necklace when masks are not required.

 Perfect Stylish Accessory for All Errands and Social Distancing Activities!  Who says Face Masks can't be gorgeous?

 Great Gift Idea!  Beautifully packaged in a trendy gift box with HelloClassy's signature black bow, CLASSY Chains are perfect gifts for healthcare and essential workers, teachers, students, friends, family, and your favorite fashionistas!     

  ONE CHAIN = MANY STYLE POSSIBILITIES.  Mix, Match and Attach!  Pair colorful CLASSY Chains with CLASSY GLASSIES™ and Face Masks to accessorize any outfit;  while having easy access to eyewear and Face Masks at all times.  Wear as a single chain or layer it with another chain - it works both ways!

  Very CLASSY Clasps!   All CLASSY Chains feature 2 attractive clasps that easily attach to CLASSY GLASSIES™ and Face Masks.  Attach these gorgeous CLASSY chains to any color CLASSY GLASSIES™ or Face Mask to create new and exciting looks! 

   ADJUSTABLE LENGTH = PERFECT FIT. 
 Long or Short?  Easily adjust the length of CLASSY Chains with the CLASSY  "Perfect Size" Chain Adjuster, available in all CLASSY Sets.  

   Perfect for Eyewear and Face Masks!   No more wasting time looking for your Eyewear or Face Mask!  No more missed opportunities! You will always be able to see the fine print AND feel protected in public! 


   GREAT NEWS!  CLASSY Chains attach to
CLASSY GLASSIES™  and Face Masks --All Styles!
ADDED BONUS:  You can wear CLASSY Chains with or without readers or masks! 
IMPORTANT:   You can NOT wear CLASSY Chains with old reading glasses.      
 "GET ATTACHED"!
 Stop Losing Readers and Masks!


CLASSY Chains' stylish clasps are strong and durable to prevent loss.


No more ugly elasticized attachment devices that break and stretch out of shape! Plus, you'll no longer waste time searching for your readers and masks!
 The CLASSY GLASSIES™ attachment mechanism is
patent-protected and a CLASSY GLASSIES™ exclusive!
Please Join Our Community for News and Special Gifts!